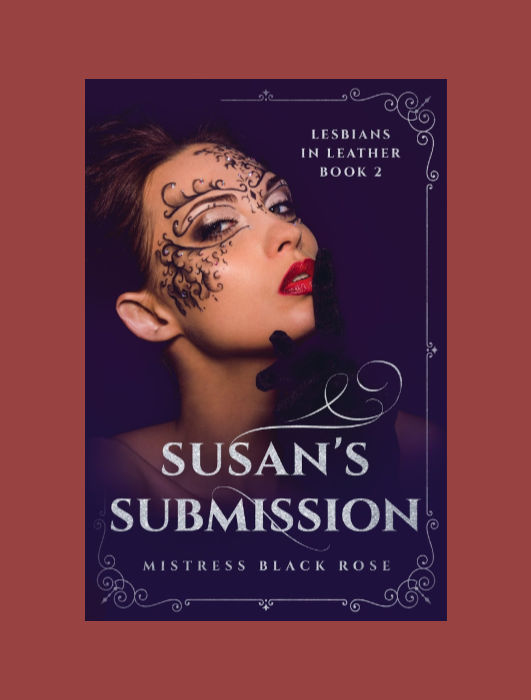 BOOK 2
Susan's Submission
COMING SOON!
Susan will discover that a one night stand might be the journey to her destiny. However her love of serving in local law enforcement might clash with her new love interest, and her growing curiosity for the taboo world of BDSM.
She's spent her whole like running from her demons. Either Mistress Lucia/Renata can teach her to face them, or she'll lose her lover, her job, and her sense of self respect.
Double Entendre
Book 1 - Lesbians in Leather
The race is on for Quinn to become the next CMO at the marketing agency she's slaved at for years. When she has a close brush with death, she's got to find a way to cope with the stress, or everything will unravel.

Her beautiful coworker Estelle suggests hiring the mysterious Mistress Jade for bondage and submission sessions, but Quinn is dubious.

Eventually she relents and realizes The Lifestyle is exactly what she was looking for!

Everything is going great until Quinn is faced with a dilemma forcing her to choose between love and life, or the career she's put so much time into.

Making the wrong decision could cost her everything, including her beloved Mistress Jade.
FREE
on Kindle
Unlimited!
OR
Join my Reader sub Community!
I'll be your Author Mistress and you'll become my Reader sub.
Once a week, I'll send you a tidbit of a short story (about 2000 words) on Fiction Friday. A great way to relax and end the week. After the short story is complete, a new one will begin.
Being a 'Mistress Black Rose Reader sub' also makes you privy to, up and coming new releases, book sales, or giveaways, before anyone else.
Don't worry. You will rarely get promotional content in your email box and I understand the need for privacy. Your email will never be sold or shared!
Follow me on Social Media